• Lisa Stewart • accent strip • adjusting a pattern • beginner • beginner basics • flip-lock • hack • hardware • vinyl
The Bailey Basic Tote
is just that - a
Beginner Basics Collection
pattern with a center accent strip, padded interior pocket for a tablet, and a magnetic snap closure. Patricia took it up a notch using vinyl for the exterior, a flip-lock, a metal tag, square rings, and rivets. Read on for all the details.
---
• Lisa Stewart • adjusting a pattern • Cici Tote Bag • confident beginner • foam interfacing • Linen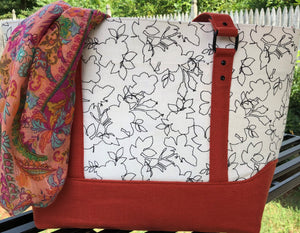 Our second pattern,
The Cici Tote Bag
is a structured bag made with home decor fabrics and vinyl accents, stabilized with Peltex. I chose to make mine from linen and used foam. I learned some things along the way and hope to save bagmakers the same frustration I experienced.