• Lisa Stewart • classic styling • cork • faux leather • intermediate • intermediate sewists • leather • testers' makes • travel • vinyl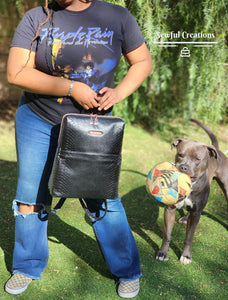 The Kaya Papaya Design tester group has done it again! Check out the photos and details of their makes of the classy
Jovie Backpack
pattern.
---
• Lisa Stewart • how to • learn • metal label • purse label • tutorial • vinyl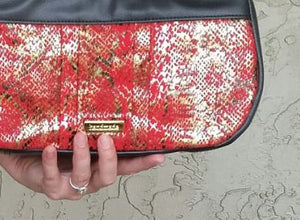 An engraved or etched label adds a high-end look to your bags. And recognition of all your hard work. Check out our tips for adding a metal label with prongs to your bag for a classy finish.
---
• Lisa Stewart • child's bag • confident beginner • diaper bag • duffle bag • gym bag • overnight • travel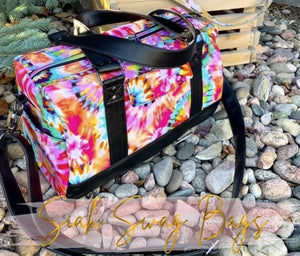 Little brother to
The Laila Weekender 
with customizable features to make this a super kid-friendly bag. The options are great for an adult gym or dance bag. Or make it into a mega diaper bag.
---
• Lisa Stewart • classic styling • classy • confident beginner • Karys Shoulder Bag • testers' makes • trendy features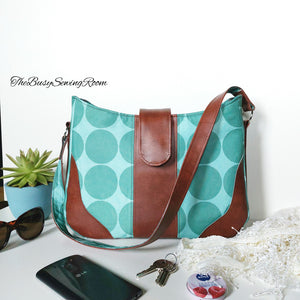 How about a classy shoulder bag? The testers were thrilled with the new Karys pattern, claiming it was a quick make. And their creativity in fabric and hardware choices, along with their excellent skills, will inspire you to make one, too! Take a look at their makes along with all the details.
---
• Lisa Stewart • accent strip • adjusting a pattern • beginner • beginner basics • flip-lock • hack • hardware • vinyl
The Bailey Basic Tote
is just that - a
Beginner Basics Collection
pattern with a center accent strip, padded interior pocket for a tablet, and a magnetic snap closure. Patricia took it up a notch using vinyl for the exterior, a flip-lock, a metal tag, square rings, and rivets. Read on for all the details.