• Lisa Stewart • beach bag • beginner basics • large tote • no pattern pieces • rotary cutter • testers' makes • tote bag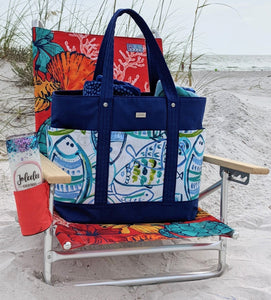 The Sunset Beach Tote is named for our favorite beach. With a long haul across the dunes, we need to be able to carry it all. The testers loved it and were using theirs right away. As always, lots of beautiful makes. Check them out and get inspired!
---
• Lisa Stewart • add-ons • beach bag • Cici Tote Bag • free PDF • pockets
The Cici Tote Bag is a classy design - carry all of your stuff stylishly. Now you can change a few features, fabric, and add pockets, and you've got a hardworking, fun poolside bag - or even a diaper bag. And there's nothing to prevent you from adding these features to the more classic bag style. Check out how I did it.