• Lisa Stewart • color-blocked • crossbody strap • pockets • testers' makes • The Fallyn Bag • vinyl
The Fallyn Bag
was designed to showcase fabrics, the top-stitched detailing, and the bag features. With such an experienced group of testers, we were excited to see them "put their spin" on the pattern. Read on for inspiration and the details of the materials used.
---
• Lisa Stewart • add-ons • adjustable strap • Cici Tote Bag • confident beginner • crossbody option • faux leather • pockets • shoulder bag • slip pockets • snug lining • stability • strong • structured • tote bag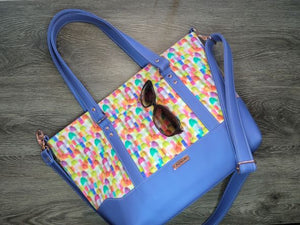 The Cici Tote Bag has a lot of devotees among bag makers. With new formatting, we also took the time to add some enhanced features, making it even more versatile than the original. This "new and improved" really is!
---
• Lisa Stewart • add-ons • beach bag • Cici Tote Bag • free PDF • pockets
The Cici Tote Bag is a classy design - carry all of your stuff stylishly. Now you can change a few features, fabric, and add pockets, and you've got a hardworking, fun poolside bag - or even a diaper bag. And there's nothing to prevent you from adding these features to the more classic bag style. Check out how I did it.
---
• Lisa Stewart • adjustable strap • airline • big • duffle • Laila Weekender • photos • pockets • testers • travel • trolley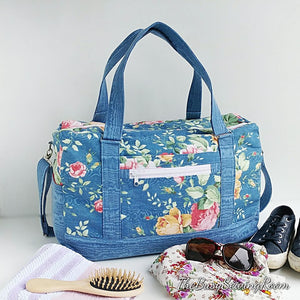 The Laila Weekender
is designed to hold EVERYTHING you need for that getaway you've been dreaming of. Check out all the eye candy from our very talented group of testers and get 
your
 creative juices flowing!