• Lisa Stewart • classic styling • cork • faux leather • intermediate • intermediate sewists • leather • testers' makes • travel • vinyl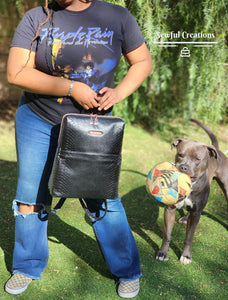 The Kaya Papaya Design tester group has done it again! Check out the photos and details of their makes of the classy
Jovie Backpack
pattern.
---
• Lisa Stewart • how to • learn • metal label • purse label • tutorial • vinyl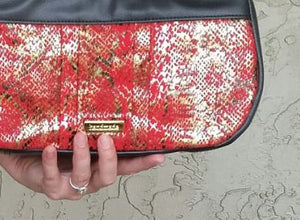 An engraved or etched label adds a high-end look to your bags. And recognition of all your hard work. Check out our tips for adding a metal label with prongs to your bag for a classy finish.
---
• Lisa Stewart • accent strip • adjusting a pattern • beginner • beginner basics • flip-lock • hack • hardware • vinyl
The Bailey Basic Tote
is just that - a
Beginner Basics Collection
pattern with a center accent strip, padded interior pocket for a tablet, and a magnetic snap closure. Patricia took it up a notch using vinyl for the exterior, a flip-lock, a metal tag, square rings, and rivets. Read on for all the details.
---
• Lisa Stewart • faux leather • vegan leather • vinyl
Vinyl or faux leather can add a high-end designer look to a bag. If that's the look you're going for, but have been hesitant to try, check out our tips for all things relating to sewing with vinyl and faux leather.
---
• Lisa Stewart • color-blocked • crossbody strap • pockets • testers' makes • The Fallyn Bag • vinyl
The Fallyn Bag
was designed to showcase fabrics, the top-stitched detailing, and the bag features. With such an experienced group of testers, we were excited to see them "put their spin" on the pattern. Read on for inspiration and the details of the materials used.