• Lisa Stewart • Claire Shoulder Bag • cork • hacks • intermediate • Kaya Papaya Design • KPD • modifications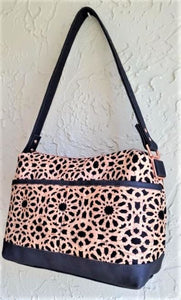 The Claire Shoulder Bag was designed for the intermediate sewist – someone with experience using different materials and finishing techniques for versatility. Check out these modifications to change up the style.(If you're an advanced beginner looking for a challenge, take a peek, too!).
---
• Lisa Stewart • backpack • intermediate • new pattern • testers • the Elora backpack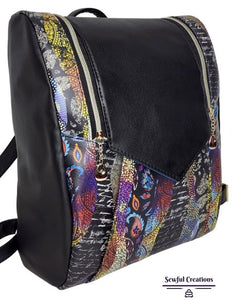 The Elora Backpack
is a sophisticated bag. Once again, our testing group wowed us with their creations. Check out all the details and get inspired to make your own
Elora
.
---
• Lisa Stewart • card slots • elasticized pockets • pleated pockets • rivets on slip pcokets • slip pockets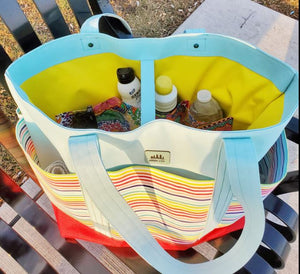 Take the time to learn to do your slip pockets right, and you'll be getting compliments. Attention to pressing, topstitching and decorative details are all discussed.  Photo: 
Amy Jo's Sunset Beach Tote has tons of pockets - inside and out!
---
• Lisa Stewart • bagmakers • bagmaking essentials • gift ideas • gifts • sewists • tools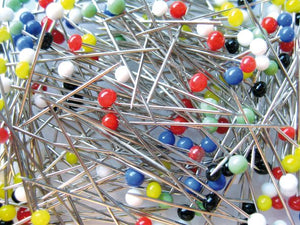 The lowly seam ripper gets a facelift in this list of sewing tools I'd be hard pressed to do without. Even experienced bagmakers may find a new favorite or a better option.
---
• Lisa Stewart • beach bag • beginner basics • large tote • no pattern pieces • rotary cutter • testers' makes • tote bag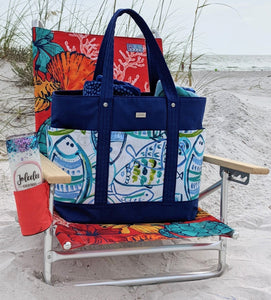 The Sunset Beach Tote is named for our favorite beach. With a long haul across the dunes, we need to be able to carry it all. The testers loved it and were using theirs right away. As always, lots of beautiful makes. Check them out and get inspired!