• Lisa Stewart • beginner friendly • Cici Too • Cici Tote Bag • cosmetic bag • tote bag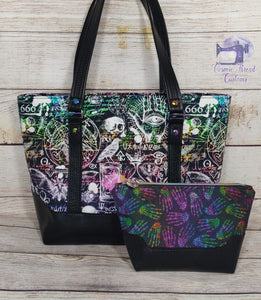 Start with the cosmetic bag pattern, build your skills and then onto the tote bag. You'll learn so much with just these two patterns. Before you know it, you'll add a host of modifications and no two sets will ever look alike!
---
• Lisa Stewart • Cici Too • Cici Tote Bag • Facebook group
The members of the Kaya Papaya Design Facebook Pattern Group have been busy! Check out all their creativity and beautiful work they've posted. Not a member? Check the link at the end of the blog post. We'd love to see your creations and have you join in the discussions.