• Lisa Stewart • add-ons • adjustable strap • Cici Tote Bag • confident beginner • crossbody option • faux leather • pockets • shoulder bag • slip pockets • snug lining • stability • strong • structured • tote bag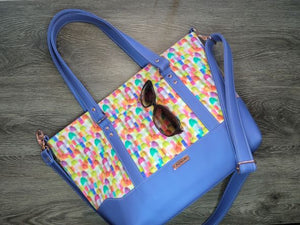 The Cici Tote Bag has a lot of devotees among bag makers. With new formatting, we also took the time to add some enhanced features, making it even more versatile than the original. This "new and improved" really is!
---
• Lisa Stewart • add-ons • beach bag • Cici Tote Bag • free PDF • pockets
The Cici Tote Bag is a classy design - carry all of your stuff stylishly. Now you can change a few features, fabric, and add pockets, and you've got a hardworking, fun poolside bag - or even a diaper bag. And there's nothing to prevent you from adding these features to the more classic bag style. Check out how I did it.